Characteristics of the Icing Sheets
The icing sheets are moisture sensitive and can be used as decoration ornaments for cakes, cupcakes, cookies, brownies, chocolates and any other pastries/confectioneries that you can think off.
Storage of Icing Sheets
The icing sheets must be kept sealed in the moisture proof bag and must be kept in a cool, dry place and away from extreme lighting and sunlight. It can last up to 1 and a half weeks outside.
How to use the Icing Sheets
1.         Remove the icing sheet from the original packaging. It is recommended that you place the image on the cake within 15 minutes upon opening so as to reduce the absorbency of moisture from the air.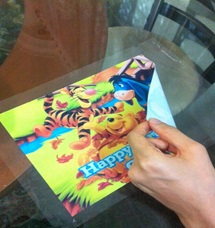 2.         If you want to stick the icing sheet to fresh cream cakes, you would need to flip the image and apply some butter cream at the back of the image before placing it on the cake. For chocolates and butter cream cakes, you can directly place the images on them.
3.         After the icing has been placed on the cake, the finished creation must be placed in a refrigerated storage where the temperature is between 2 to 10 degrees Celsius.
Happy Decorating!!!!  : )
If you want great tasting cakes/cupcakes to complement your edible image prints, we highly recommend Foto Cakes. Your one-stop studio for unforgettably tantalising cakes. Visit Foto Cakes Facebook Fanpage.