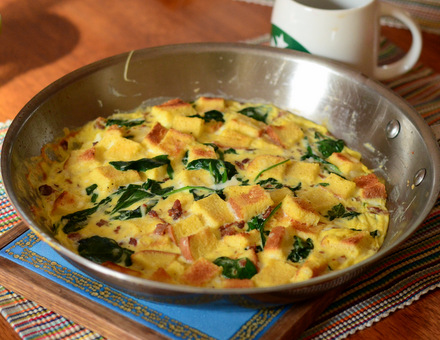 By Nicole
When I think of a casserole, I picture a large dish that consists of layers of different ingredients that is baked in the oven. For breakfast, this usually means a dish that uses plenty of eggs and cheese, ideal for serving to a crowd and not tying you to the stove to make dozens of fried eggs for brunch. But baking dishes come in all shapes and sizes and you can scale down those recipes for easy, low maintenance recipes that will feed just two or four people. This Bacon & Spinach Stovetop Breakfast Casserole is an excellent example of a non-traditional casserole that is easy to make, delicious and a thoroughly satisfying breakfast for two.
This casserole is a bit like a savory bread pudding, as it combines cubes of toasted bread with eggs and other ingredients. I first heard about this style of casserole in an issue of Cook's Country magazine and was surprised by the addition of bread, but it makes the dish heartier (without simply loading it up with more meat or cheese) and brings in a lighter texture that really works well with the other ingredients.
Start by sauteeing chopped up bacon in a skillet that is oven-safe. An 8-inch or 10-inch skillet is ideal, however you can use a 12-inch skillet, as well. The bacon should be cooked until crisp, then it can be removed from the pan and set aside. Add in your spinach and onions and sautee them in the bacon fat (feel free to drain off the excess, if you have more than 1-2 tbsp in the pan) before adding the bacon back to the pan, along with eggs and toasted bread. The casserole is finished in the oven to ensure that it bakes up to be tender and creamy, not as firm as a frittata.
The whole dish takes about 15 minutes to make and part of that time is hands-off. It's a delicious change of pace from my usual weekend breakfast options and I love the texture that the toasted bread adds to the dish. This will very comfortably serve two or three, but can easily be served to four if you are serving some potatoes or fruit alongside of it.
Bacon & Spinach Stovetop Breakfast Casserole
2 large slices white bread
3 slices bacon, coarsely chopped (about 3-4 tbsp chopped bacon)
3 tbsp diced onion
4-6 oz baby spinach
4 large eggs
6 tbsp milk
salt and pepper, to taste
1/2 cup shredded fontina cheese
Preheat oven to 475F.
Toast the bread in a toaster until golden brown. Set aside to cool, then cut into 1/2-inch cubes.
In an 8 or 10-inch oven-safe skillet, saute bacon over medium heat until crisp, about 3-4 minutes. Using a slotted spoon, remove bacon from the pan and set aside to drain. Leave bacon fat in pan and add in onion and spinach. Saute until the onion is translucent and the spinach is wilted, about 3-4 minutes.
In a medium bowl, whisk together eggs, milk, salt and pepper. Add the cheese, spinach mixture and the bacon in with the eggs and stir to combine, then return the mixture to the pan. Cook for about 45-60 seconds, just until the eggs begin to set at the edge, then add in the bread and fold to combine with the eggs and evenly distribute the bread cubes.
Transfer pan to oven and bake for 6-8 minutes, until just set.
Serve immediately.
Serves 2-3
Source: Baking Bites