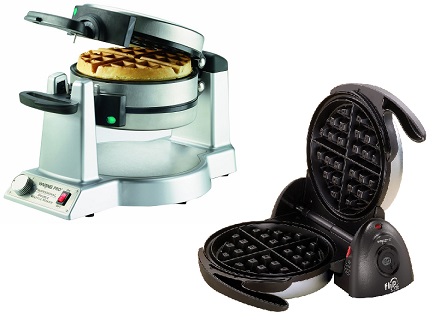 By Nicole
Crispy Belgian waffles with deep, syrup-catching pockets and fluffy interiors are a breakfast treat that many of us don't get to eat nearly as often as we would like to. Belgian waffles require a special type of waffle iron that will produce the correct waffle shape, as well as a great waffle batter recipe that will give the waffles just the right consistency. Fortunately, there are many Belgian waffle irons out there to choose from, if you want to make your own at home, and the Cook's Illustrated test kitchen helpfully set out to see which models were worth buying in a recent (Jan/Feb 2016) issue.
The testers required that the waffles be at least 1-inch high and that the irons produce uniformly browned waffles every time that they were used. They found that some irons simply couldn't get hot enough to produce a crisp finish every time, while others had hot spots that led to burning. They also looked for models that had a timer which allowed you to know when the waffle was done without opening the machine to check it repeatedly, and preferred if that waffle was done in under 5 minutes. As they always do, the testers also looked for ease of use and cleanup on each of the 13 models that they tested. At the end of the day, only 3 models made it through the testing with solid "Recommended" ratings.
The winner was the Waring Pro Double Belgian Waffle Maker by Conair, which not only produced perfect waffles, but was able to make them two at a time. At less than $100, this machine offered a solid value and performance for waffle lovers, but it is fairly bulky and will take up quite a bit of storage space when not in use. The "Best Buy" award went to the Presto FlipSide Belgian Waffle Maker, which was half the price of the winner, but only made a single waffle at a time and wasn't quite as easy to use as the winner, though it was much smaller. The final recommendation went to another Waring Pro Waffle Maker, a single-waffle model that performed well and didn't take up quite as much room as its larger counterpart.
Source: Baking Bites